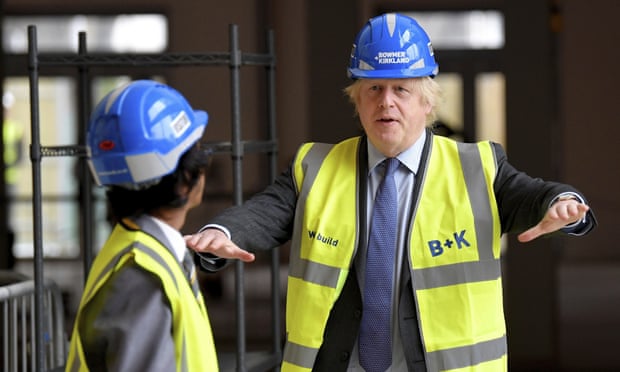 Ealing Fields was delighted to have a very important guest to show around their new school building earlier today.
The Prime Minister, The Rt Hon Boris Johnson MP was met by the Associate Headteacher, Mark Bedford and Senior Project Manager Keith McGinness of building contractor Bowmer + Kirkland.
After meeting Dame Alice Hudson, Executive Headteacher and other representatives of Twyford Trust, the Prime Minister was given a tour of the new school by Year 10 students Eryn Davies and Vedant Jitesh, who explained how much they are looking forward to September when they will move into the new school building after spending four years in temporary accommodation.
The Prime Minister had time with Vedant, Eryn and Nancy Kolawole, Shazaib Adeel, Samira Dalla and Arti Bachtiarov during which they shared their experiences of school during lockdown and how they have adapted to their online teaching and learning.
In a Q & A session the students asked the Prime Minister about his plans for exiting lockdown, how the GCSE exams next year would be managed, and even had time to challenge him on how we can achieve greater BAME representation in parliament and how they might pursue a career in politics.
The student representatives were a credit to Ealing Fields and said to the Prime Minister how much they had appreciated the efforts and creativity of their teachers to help them continue learning during lockdown.
We are very grateful to the building contractor for hosting the event, and for Ms Trewin, Mr Santos and Mr Woodham for helping to facilitate the visit.
Prime Minister Boris Johnson said: "I was delighted to visit Ealing Fields High School this morning, and hear about the transformative impact their new facilities will have on pupils and staff.
"The science labs, classrooms and other impressive new buildings will benefit Ealing Fields for generations to come - and through our ten-year rebuilding programme, I want more schools to undergo similar renovations to level up opportunities and give every young person the best start in life.
"I also want to thank Dame Alice, Mark Bedford, and all staff for their hard work and careful planning in bringing back around 85% of eligible pupils since lockdown restrictions were eased - representing a significant step forward as we prepare to reopen schools to all children in September."