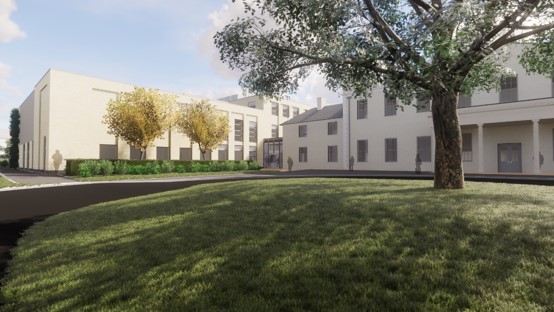 Place House
Following feedback from local residents and stakeholders, some further amendments were made to the planning application for Place House and these have been submitted to Ealing Council. The updated application details can be viewed here but key changes are as follows:
The inclusion of extensive areas of green walls to the elevations
The inclusion of obscure glazing in the south facing elevation at the first and second floor of the western end of the South Teaching Block, and the removal of the first floor staff workroom window
The introduction of a lighter coloured render at the second floor level of the west facing elevation of the South Teaching Block
Reduction in the height of the sports hall by approximately 0.8 m
Reduction in the parapets on the South Teaching Block by approximately 0.5 m
Redesign of the vehicle and pedestrian gates to Little Ealing Lane and Convent Gardens in a more authentic Georgian character
Recess of the Little Ealing Lane vehicle gates to ensure vehicles can wait at the gate without overhanging the road
Widening of the pedestrian gate and internal pedestrian paths
Relocation and reconfiguration of cycle parking
Provision of an acoustic fence to the eastern boundary
Provision of an upgraded refuse enclosure in line with the council's waste management guidelines
Extensive additional planting, including an additional 18 trees on the site, particularly in boundary screening locations
Green roofs have been added to the student cycle parking shelters, refuse store, and adjacent to the second floor library
These changes represent considerable additional investment in the site from the education budget to help address the concerns of residents without affecting the operational activity of the school.
The amended landscape master plan is shown below together with updated 3D images:
Ealing Council will reconsult on these amendments so local residents are fully aware of the latest revisions ahead of the October planning committee meeting. Further comments on the updated proposal can be submitted on Ealing Council's planning portal here.