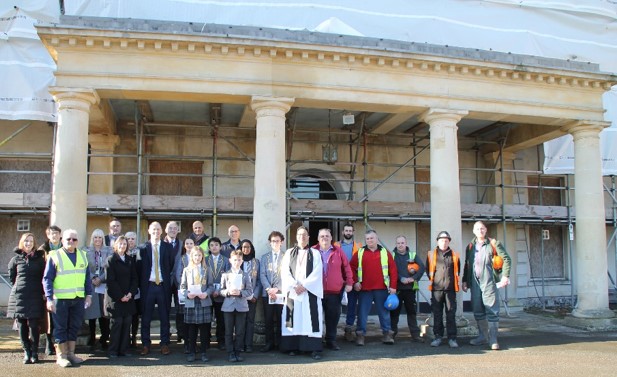 Student representatives of Years 7-9 at Ealing Fields High School got their first view of Place House yesterday when a service was held to bless the site ahead of the upcoming demolition and construction phase of the project.
Led by the Assistant Area Dean Revd Carolyn Dunk and the Trust Chaplain Revd David Brammer, the service was attended by staff and governor representatives of Ealing Fields and members of the project teams at the DfE, Bowmer + Kirkland and the Twyford CofE Academies Trust.
Associate Headteacher Mr Mark Bedford even tried his hand in the driving seat of a digger.
Bowmer + Kirkland, the contractors for Place House building project, took formal possession of the Place House site on 21st January. Since then they have been carrying out pre-commencement work, such as setting up the site offices and services, a soft strip out of the existing buildings and clearing the landscape as well as engaging specialists for wood rot and damp.
Archaeological trenches were also dug and duly inspected by English Heritage. Members of the local history society also came to view the work carried out by the archaeological team from University College London.
Local residents wanting to keep up to date on works on the site can contact Keith McGinness, Senior Project Manager for Bowmer + Kirkland ([email protected]) to receive regular bulletins on progress. His emergency contact number is 07827 987 501